I decided to divide day four of London Fashion Week AW18 into two posts because a lot happened that day. Plus, I didn't want to overwhelm you guys to sleep with too much awesomeness. 🙂 The second part of the day is a contrast between a designer that challenges the notion of what the fashion industry has become and Fashion designers all the way from The Middle East erasing the stereotype that stigmatises Arab Women as an oppressed community.
Ilara Lepore: Kill Your Idols
Ilaria Lepore is a contemporary fashion designer based in London since 2012.
The designer's interactions with the outer edges of society have led her to reverse commonly accepted notions of beauty and gender. Androgynous code allow the designer to express a minimal, sartorial and provocative vision.
The fashion designer's experiences and investigation of clichéd human landscape has culminated in a new visual language. Each collection evokes a daring metamorphosis and challenges mainstream fashion channels. Bodies become the designer' statement, a reaction against the lack of consciousness in the fashion industry of today.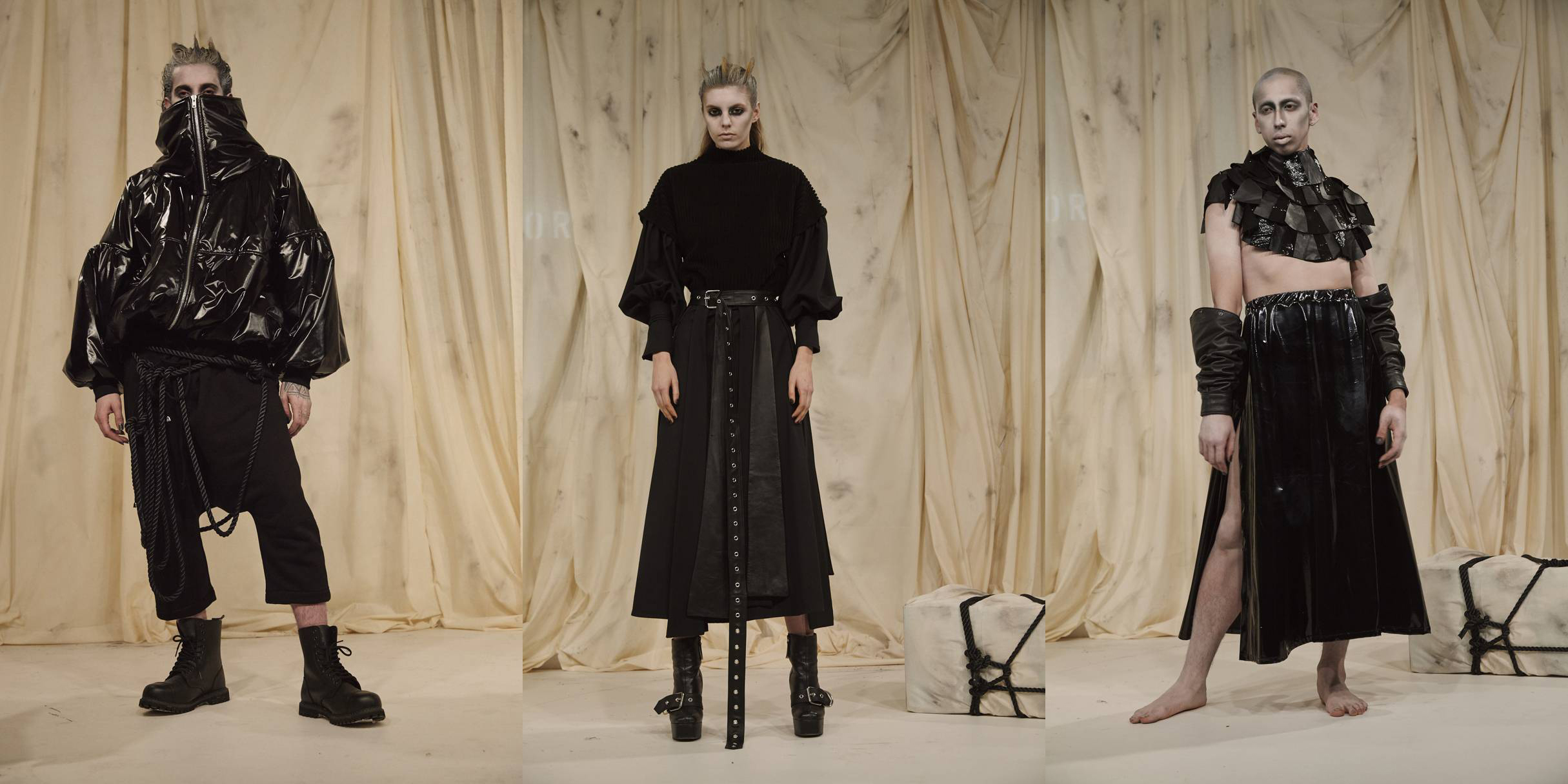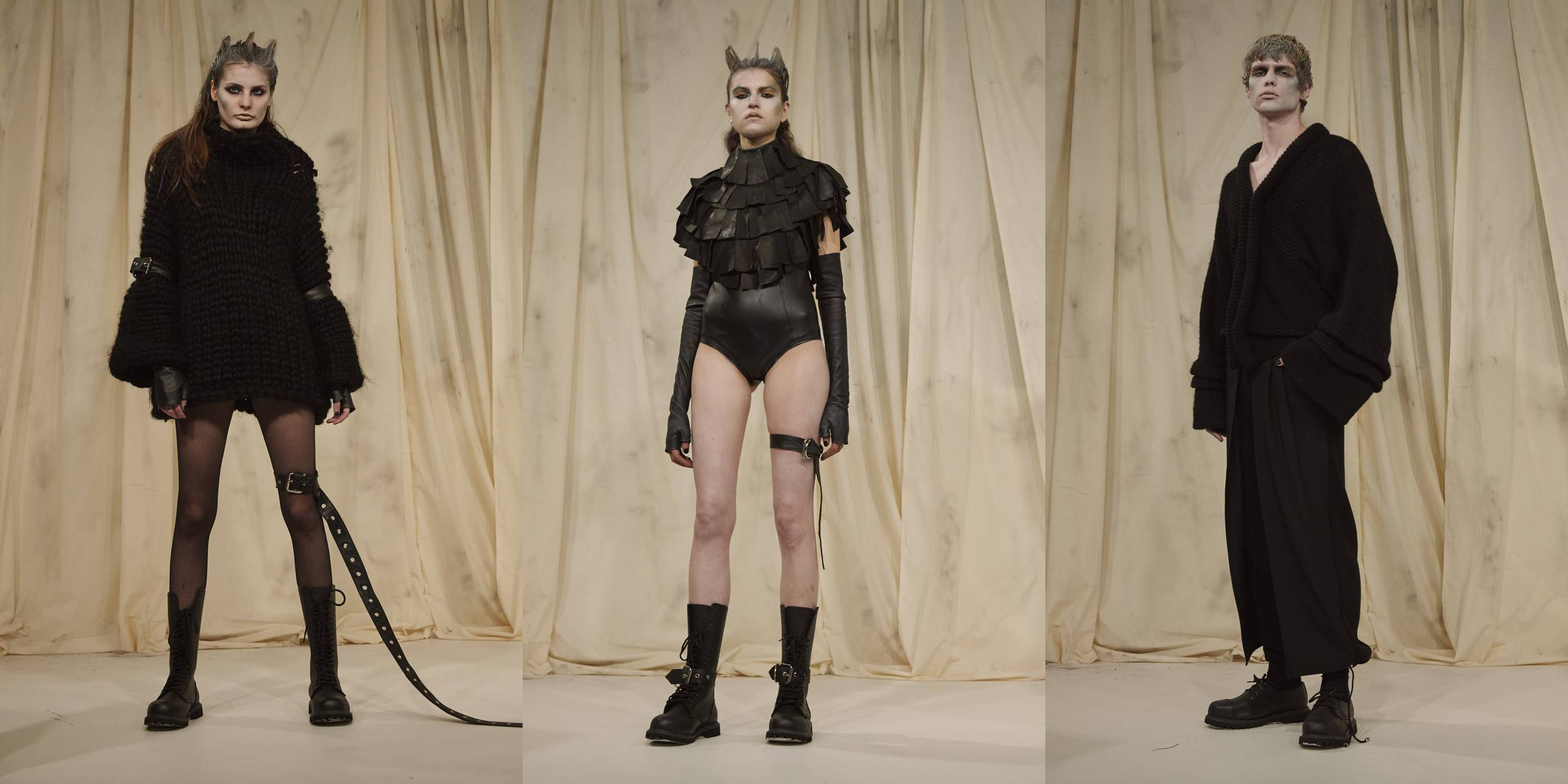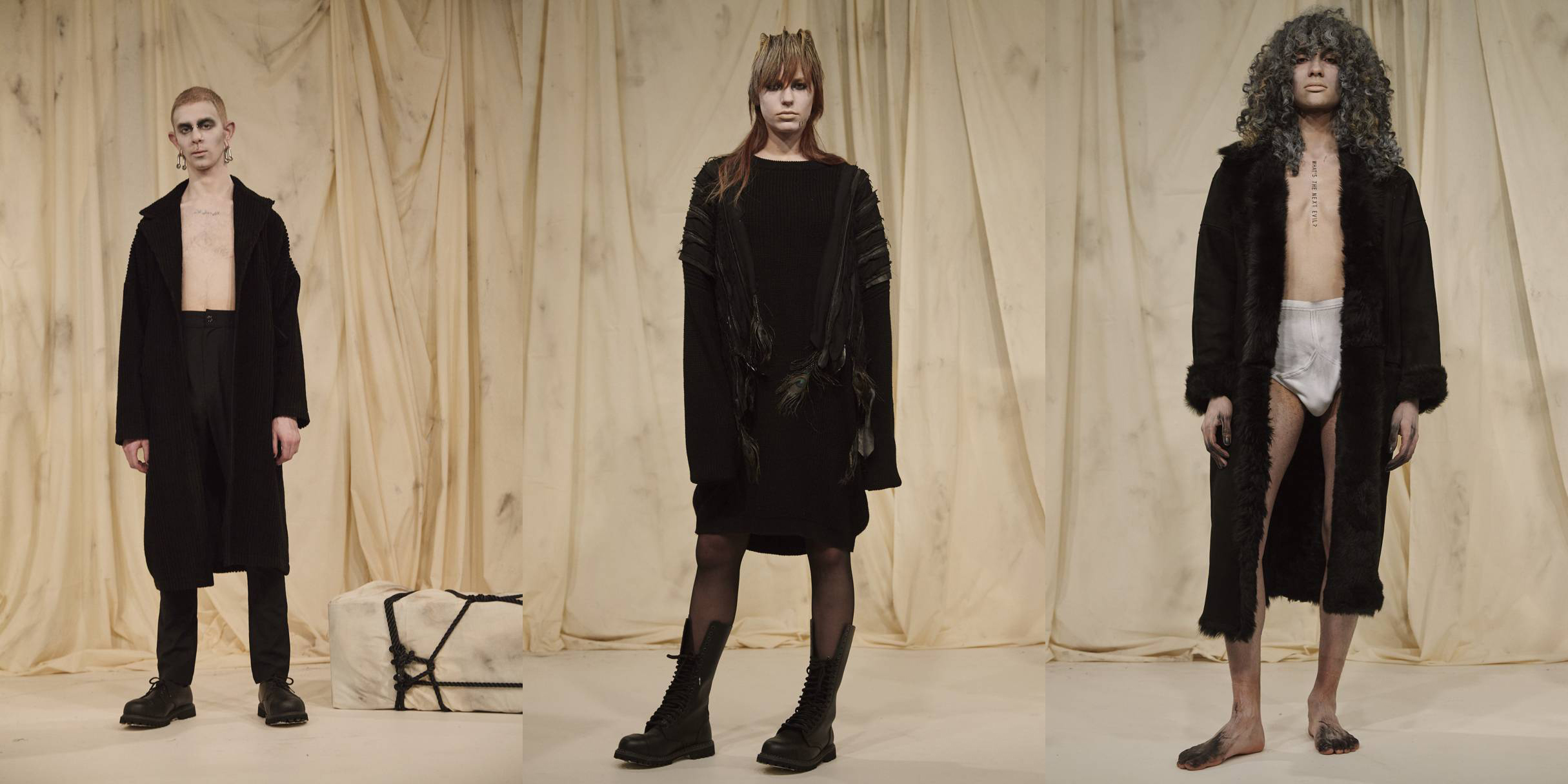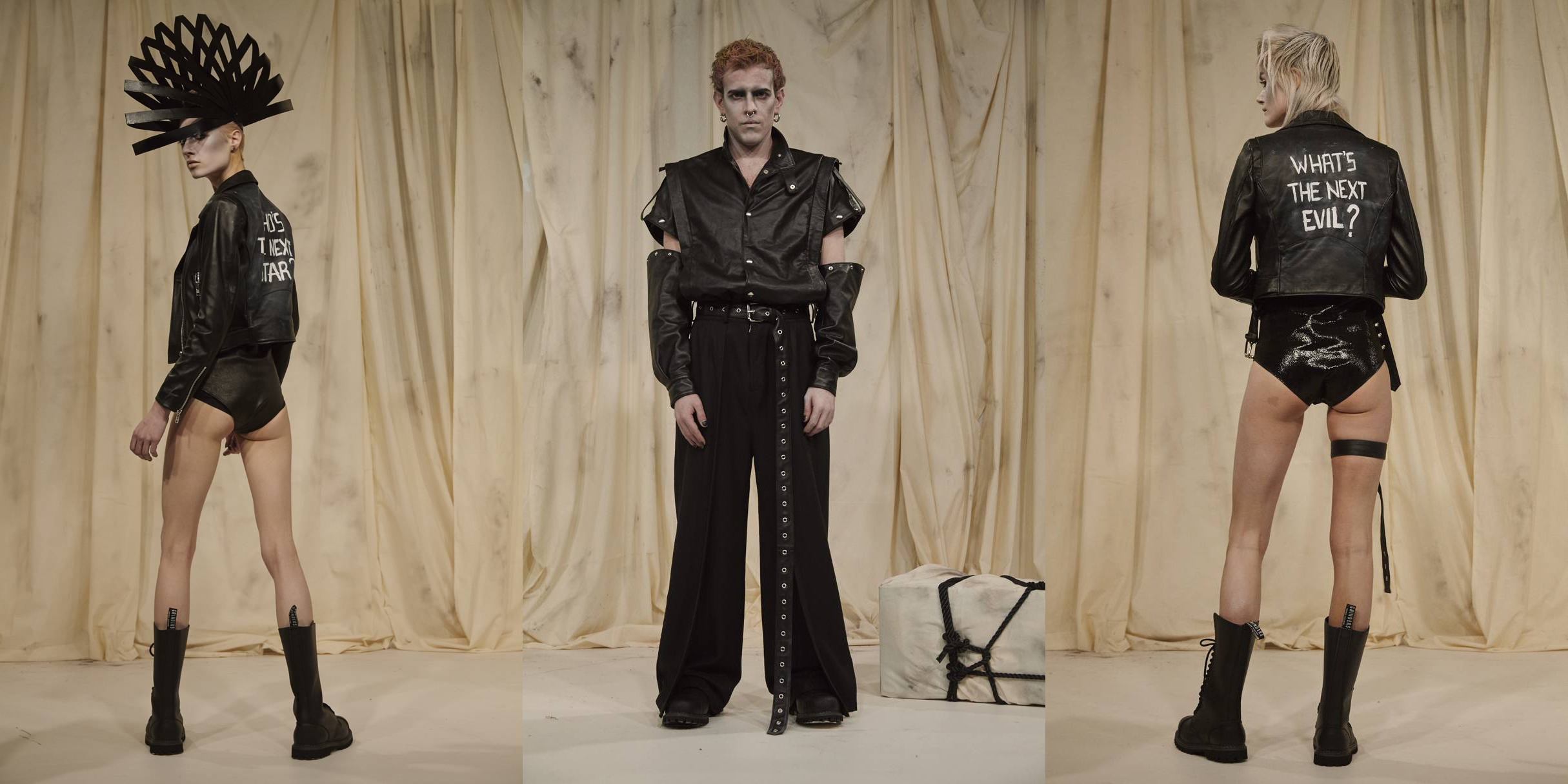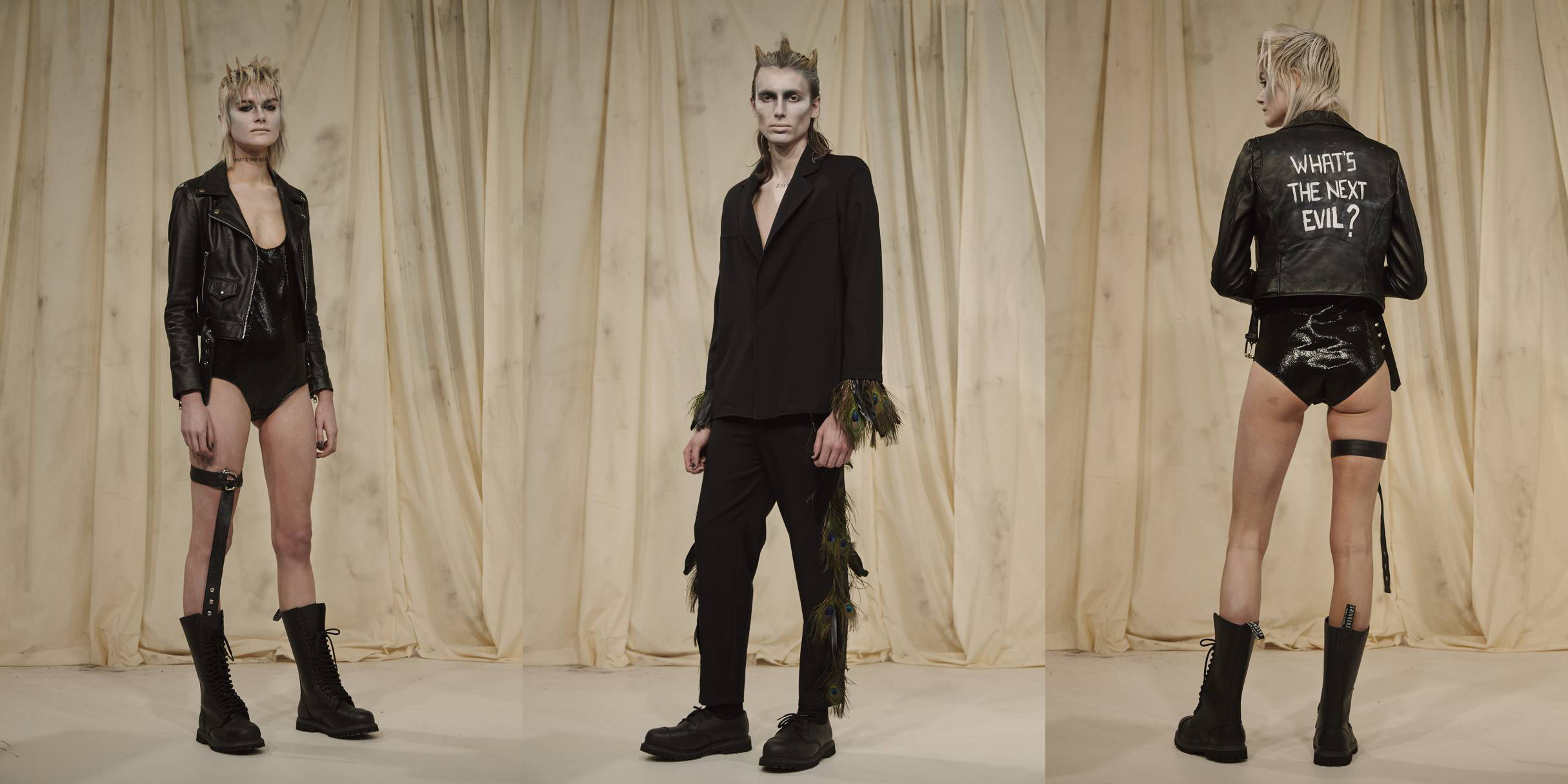 The last show of the day, I attended was by Stories From Arabia.
Stories From Arabia is the largest platform encompassing elitefashion designers from Arabia during London Fashion Week.Founded by Jalila Elmastouki.  It's vision is to highlight and expose the incredible work of designers from Arabia. Eight designers from The Middle East take the global stage at London Fashion Week to showcase their intricate collections rich in traditional techniques, bold with the colours of their region and an overall ode totheir roots.The message for this season is: " Arab women are creative not oppressed"."
It is my mission to share with the world the Arab identity and its perception to a foreign audience, Stories From Arabia creates that bridge between Arabia and the Western World to change the way people think about the region and to support Arab designersby making their work accessible to a British audience". ~ Jalila Elmastouki
Ghita Larich: "First Love"
The collection is inspired by the jumpsuit.
"I am telling my story in this collection. From the basic jumpsuit to the bridal one. Every piece represents all the elements I cherish the most : from my favourite Moroccan technic, to the embroidery design.
"The right balance between tradition and modernity" – as the modernity represents the jumpsuit, and the tradition is the attachment to my origins."

Bassma Boussel: 
Inspired by Michael Jackson's style and constructed with traditional Morrocan techniques and embroidery. A textural dream of laser cut suede and 3D brocade.
"This collection means a lot to me as it took a whole year to make all of the designs. I put a lot of love in to it.
London Fashion Week was a dream for me and I am so excited that it's coming true, I have a mixture ofpride and fear as it's going to be a new experience for me. And hopefully that it's going to be the best ever!"


Zenobia London:  'Classic Collection'
"The collection is inspired by the monuments and civilisations of the middle east and the traditional fallahi cross-stich exquisite embroidery encompassing a coin portraying Queen Zenobia's face, toantique bronze and scarlet red bold colours favoured by Her, each piece is a work of art in her honour. The collection is made from a blend of crepe and tweed, hand finished on the highest standard with a customised pattern of the traditional eastern cross-stiches embroidery embellishment. Each clothing piece radiates sleek seam detailing and cut, and careful placement of embroidery and is tailored where two fashion techniques were used on top of the embroidery, laser cut patterns and vintage digital laser printing."


Kash5afu by Ahmed Albalushi: 'BRWN'
In this collection the inspiration is based on a character that has always lived in his imagination. A woman that always wears black because of her strength not her weakness or sadness despite the colour connotations black usually has. In this collection the colours are flakes of a character embracing the colour black and ending its expression by white.
"It's a huge challenge to step into this battle and make a memorable mark to the European crowd, coming all the way from Oman to represent a collection that stands for its uniqueness and strength in message. As a young designer showcasing in one of the fashion capitals in the world is an honour."


Dar Maysoon: 'Future within the Veil'
"The advancement and progress in the Gulf Culture while preserving the true Arabic values andtraditions is the inspiration behind "Future within the Veil.
My new collection mirrors this progress where the traditional identity of the Black Abaya is sustained with avant garde (innovative) designs that are progressive and characterized by elegance and sophistication.
The interaction between cultures inspired the introduction of a variety of internationally known brands of garments and accessories in my new collection with a wide combination of material, colors, patterns and styles especially made for the Arabic woman of strong personality and great values."


 Kayat by Laila Aziz: 'Moroccan Artisanat'
"I got my inspiration from Moroccan art. The colorful Moroccan patterns and bright colors inspired me the most when I was creating this collection. Every piece is unique due to all the dresses being handmade with extensive embroidery and metal draping. Every dress has its own storyline – where it all starts with the raw materials.
This collection definitely means a lot to me since it represents my roots. I am Moroccan and Dutch so you will see two very different worlds coming together within my designs"


Velvet Abaya  'A velvet velvet world'
"I design each piece with love and passion.
We have used different textiles such as crepe, lace and velvet embellished with sequins in cool shades of pastels. I always make sure that my designs are elegant diverse and reflects our region.The variation of styles all tell a story. "


Rafinity Couture: 'The lady from Zaman ( Zaman means old days)'
"Rafinity carried by the vision of the duet of creator El Hajouji sisters, presents woman to classic inspiration worn by a touch of baroque madness.
Silhouettes are pure and simple in ample cuttings and with à low armholes just like first Moroccan Kaftans. The pattern are strongly inspired by our Zmani jewellery collections and by the aesthetics of17éme century and the wealth of it's architecture and of it's decoration. Zwak du Maâlam is in the center of our embroideries and ornaments; they are often worked in gold thread, decorated with sequins and with precious stones in the brightness summer solar energy."


After that I was off to an afterparty where I was served a cocktail made a lady flexing her Abaya. How many of you guys can say that? ( Well apart from the fellow influencers in attendance 🙂 ). This people is the future.