The third day of London Fashion Week was a good day for me as for the first time I had an outfit that was LFW worthy. However being a very early day for me with the first show at 09:30am. I managed to barely do my makeup, wash and blow dry my hair.
I have a full head of hair. So I was basically walking around with a lion's mane. Kenya Simba Represent!! *hoot!hoot!*
I digress. 😉
The first show of the day was by Edeline Lee held at the BFC Show Space.
Edeline Lee is a Canadian Born London Based designer. Her designs focus on 'the Future Lady.'
In comparison to her previous spring/summer collections, SS18 is my all time favourite. There is an element of rawness, delicate, sensual and female vulnerability in this collection. This is influenced by Edeline's connection to a part Georgia O'Keeffe's (coined the Mother of American Modernism) story. Georgia, who was heartbroken, recovering from a nervous breakdown and in need of new start, moved to New Mexico where she painted its landscapes and through her work, became one with the city which soon became her home.
Edeline aim is to interpret Georgia's fragility and courage during this monumental period of her life (as seen in her artwork), come alive in her pieces.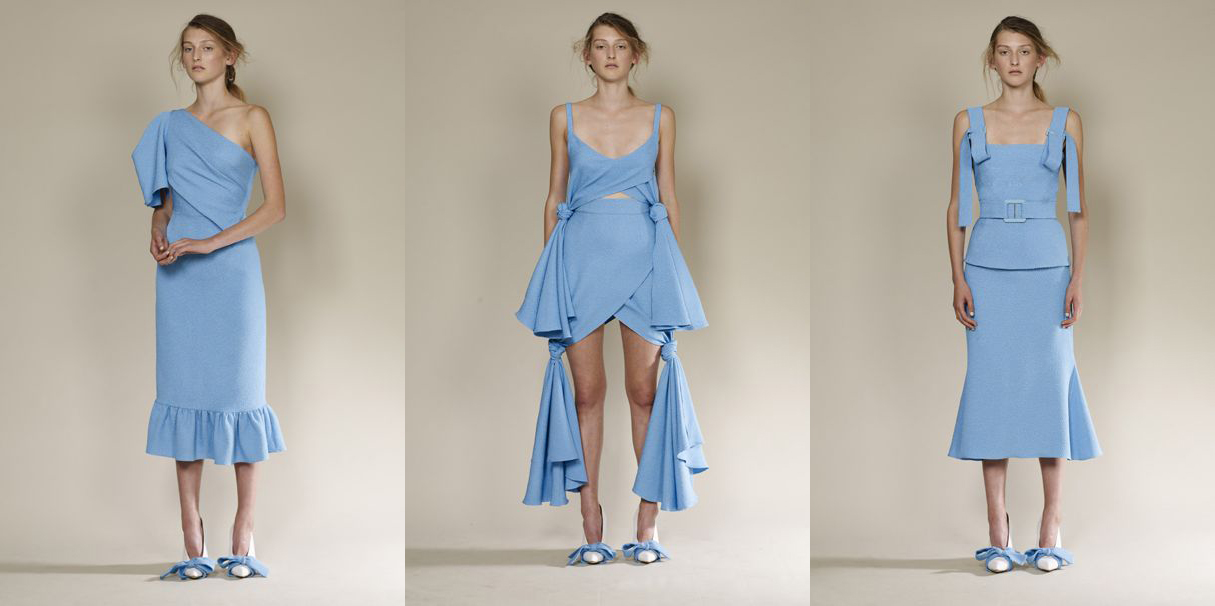 The next show I invited was by Boo Pala.
Boo Pala is a Turkish designer whose brand is all about vibrant colors. A Boo Pala woman is a sporty, masculine woman with a British attitude. Boo likes to push boundaries with colors, textures and silhouettes in her designs drawing inspiration from the beauty that lies in our world's imperfections.
In her SS18 collection silhouettes ranged from oriental style shirtdresses, through to exaggerated, structured tops, simple cropped tailoring and cropped pants. In addition, she sought to bring back colour, an element she had steered away from in her SS17 collection, with a strong focus on handrawn prints.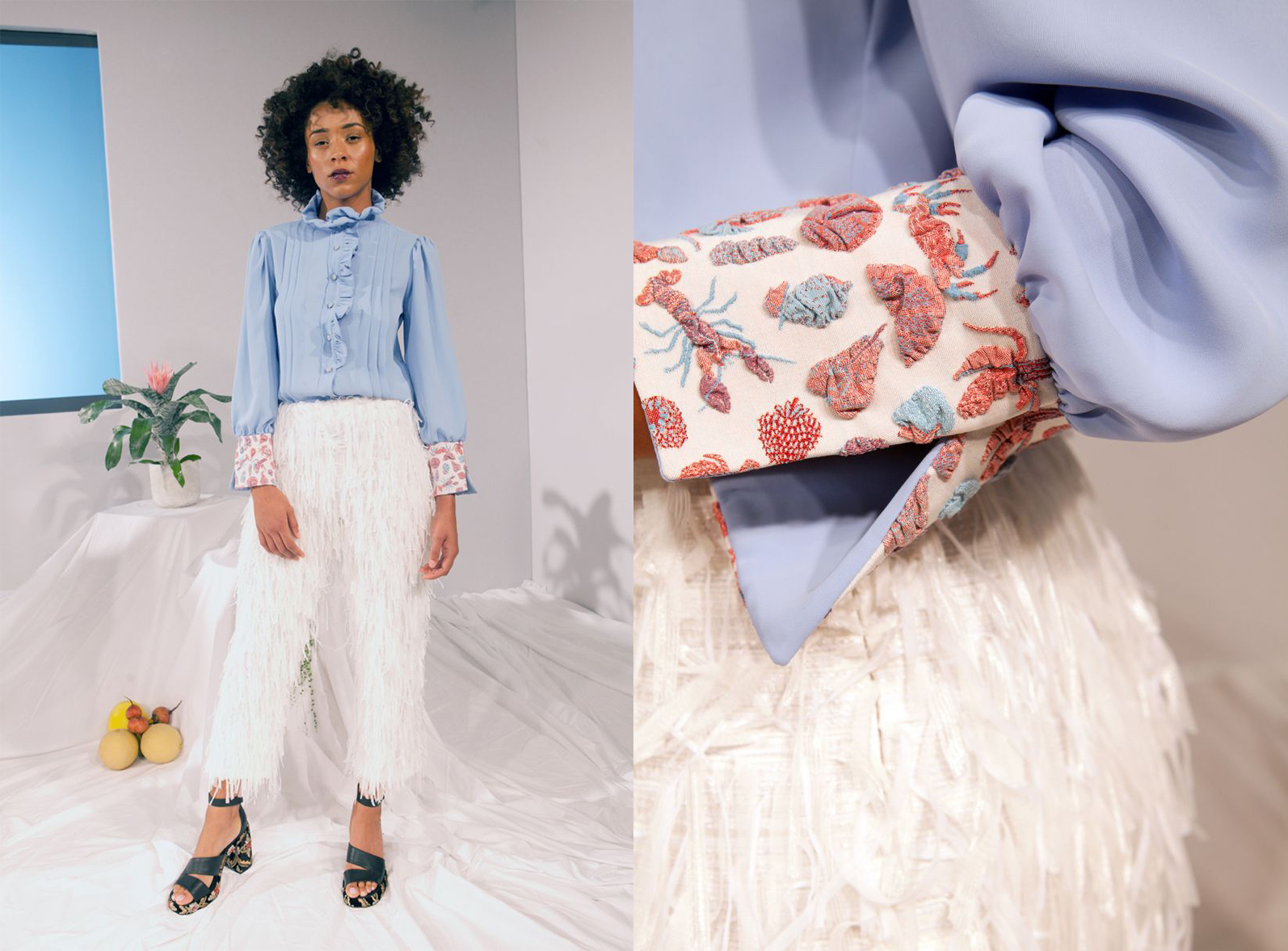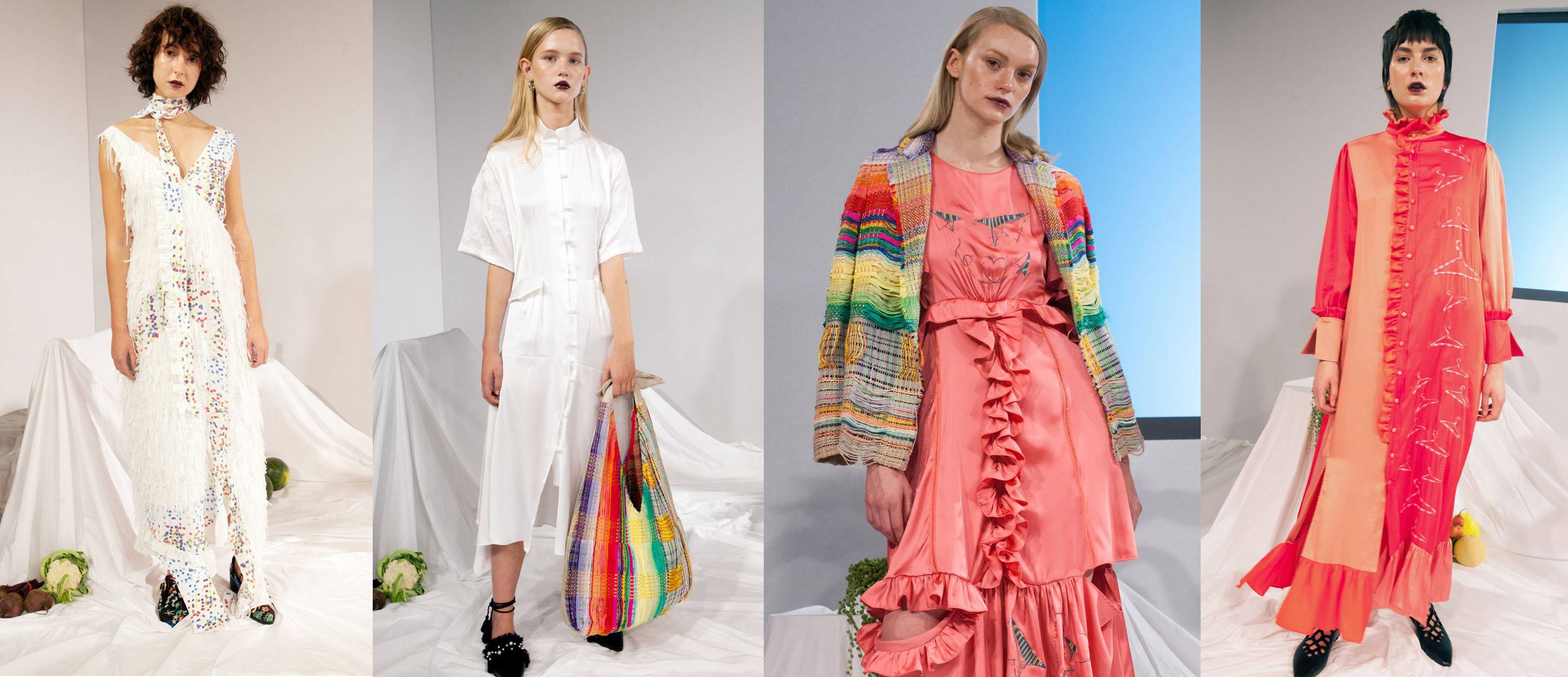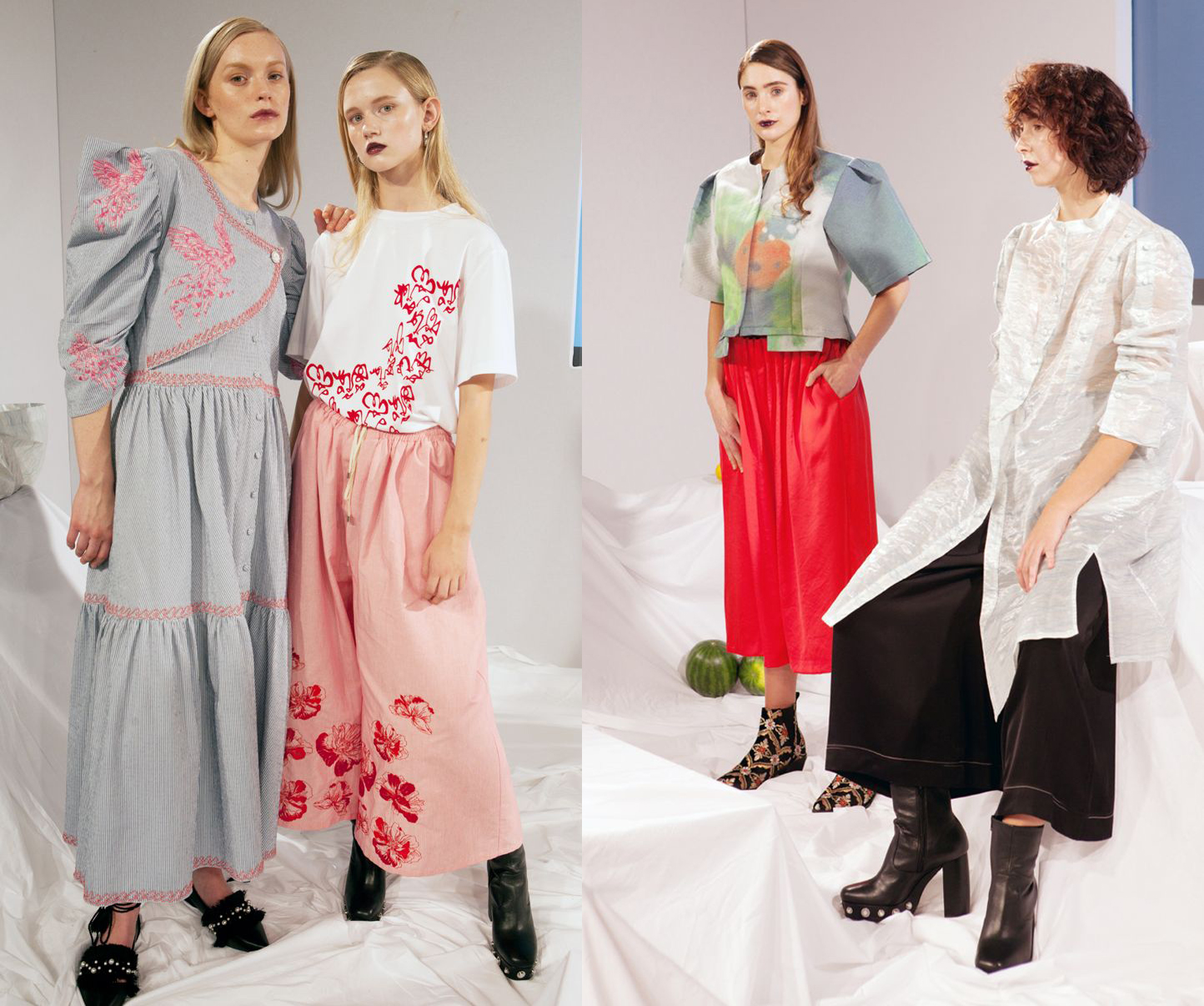 After Boo Pala's presentation, feeling inspired and even more excited than ever I made my way to the next location. First things first. I grabbed some sushi nearby, ate to my fill, ordered a double espresso, basked in the sun for a bit. Had a chit chat with a Polish barista. Then, feeling like an accomplished  adult, I skipped-to-my-Lou to the next location.
You know how things are with me. Whenever I think I am on the right track, I most definitely not. It happened I was two ours too early. Nothing was going to get in the way of an over-caffeinated me so I used this opportunity to go back to the hotel and straighten my Lion's Mane.
At 5:30pm I made my way back to Nicola Brindle's Essex Girl Show.
Nicola Brindle an emerging womenswear designer, created a brand that brings together the love for graphics, art and texture into wearable garment. Each piece is handmade in London and embellished in prints.
This season's show is inspired by Suzi Quatro, Debbie Harry (the 70s girls), Geri Halliwell as well as Dolly Parton (the 90s girls)
The show was held at the Hospital Club London in a pink lit room with walls covered in pink bubble wrap. On one end of the room hanged glitter covered letters spelling the words Eseex Girl  from the ceiling. This served as a backdrop of what I choose to call the dance floor. There was champagne and candy for the guests, a dj present and for a minute you forgot the hustle and bustle that is LFW. Once the music started playing the models walked in, went straight to the 'dance floor' and got jiggy with it.
Visibly so, rainbow metallic stripes, graphic power symbols and rock & roll text statements are used alongside the Venus symbol, lightning power bolts and abstract Union Jack to portray an anarchist, feminist, fighting spirit. All this with one goal to redefine the term Essex Girl, a term used to undermine women, to one that empowers them instead.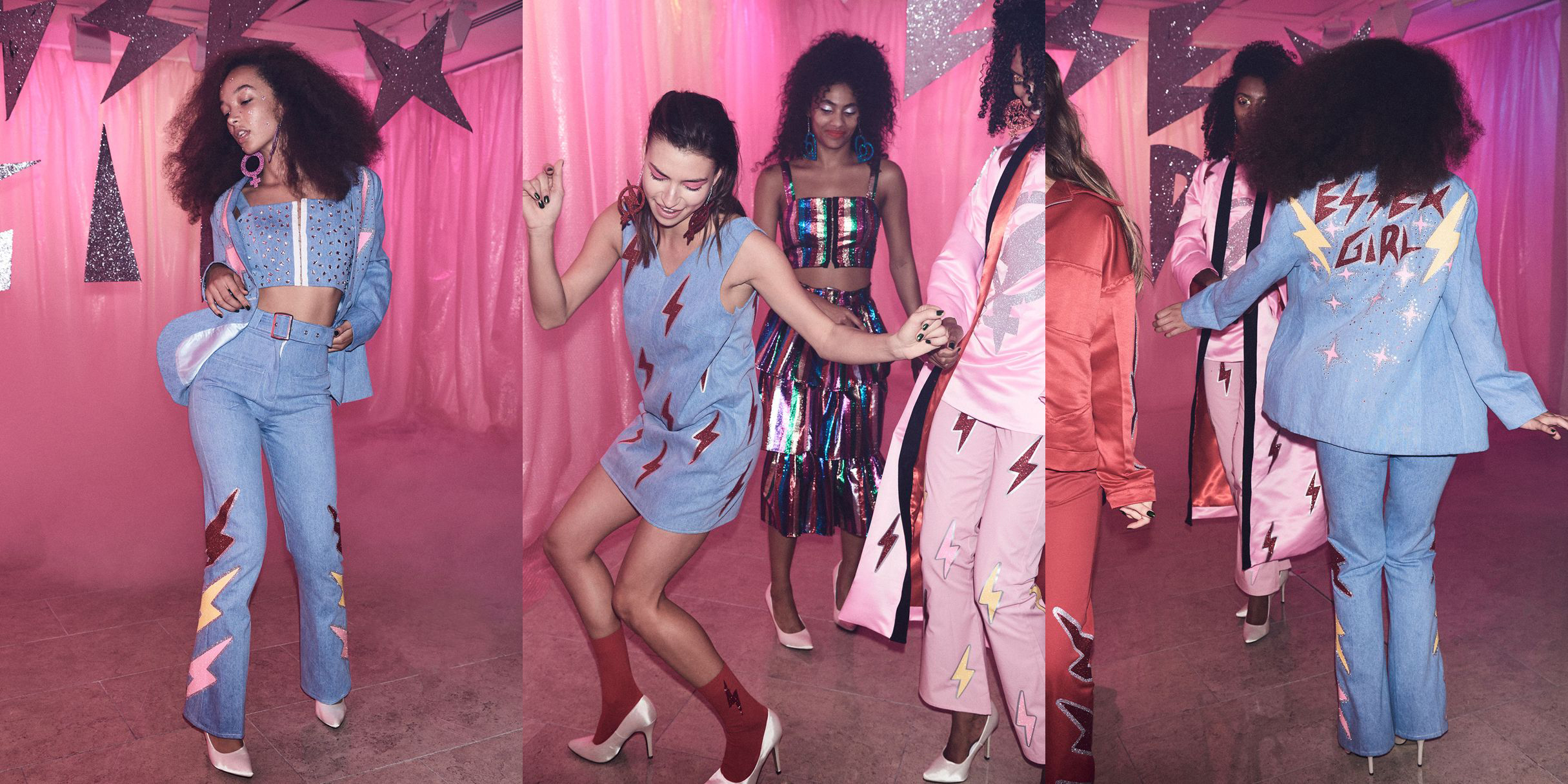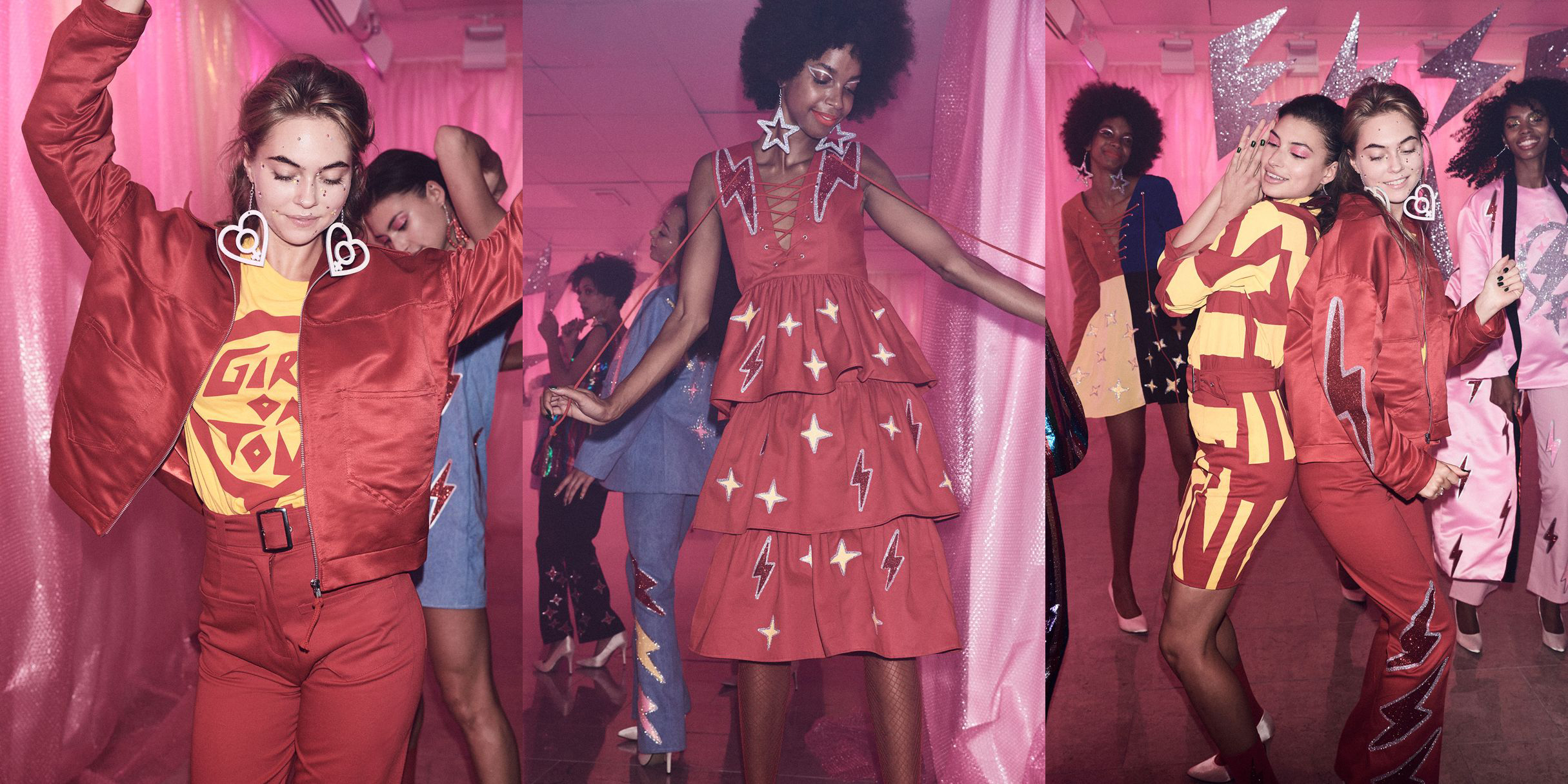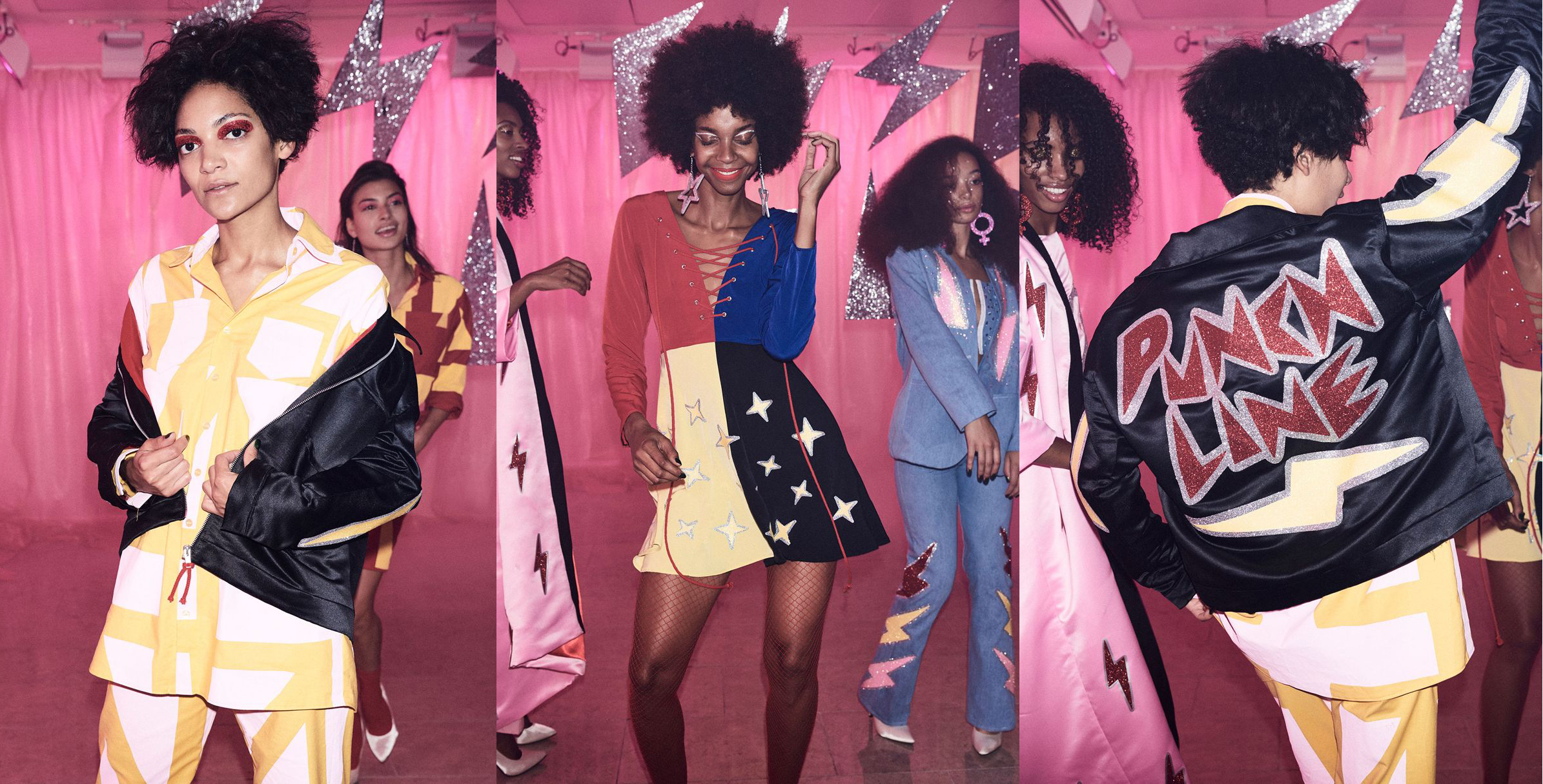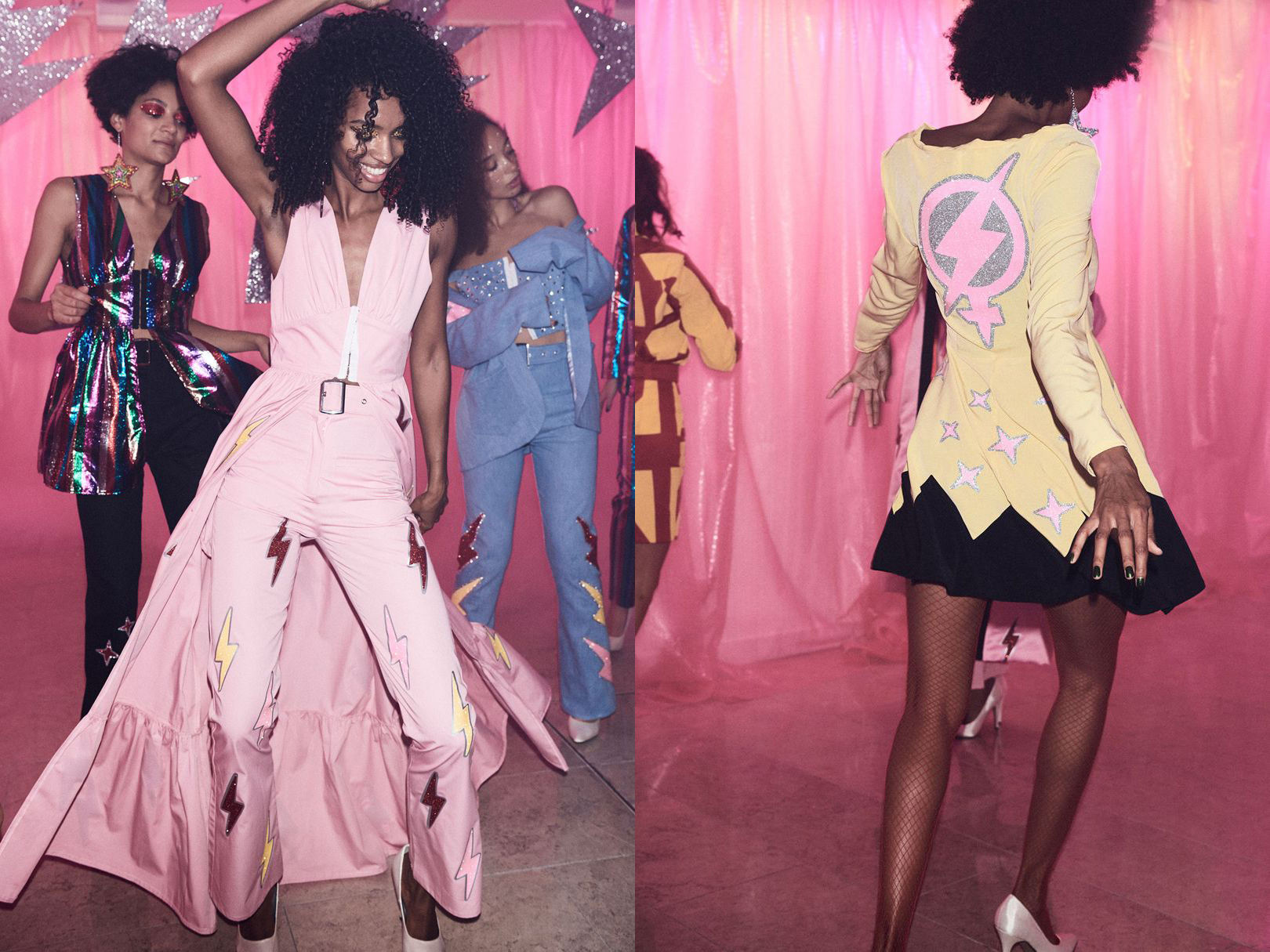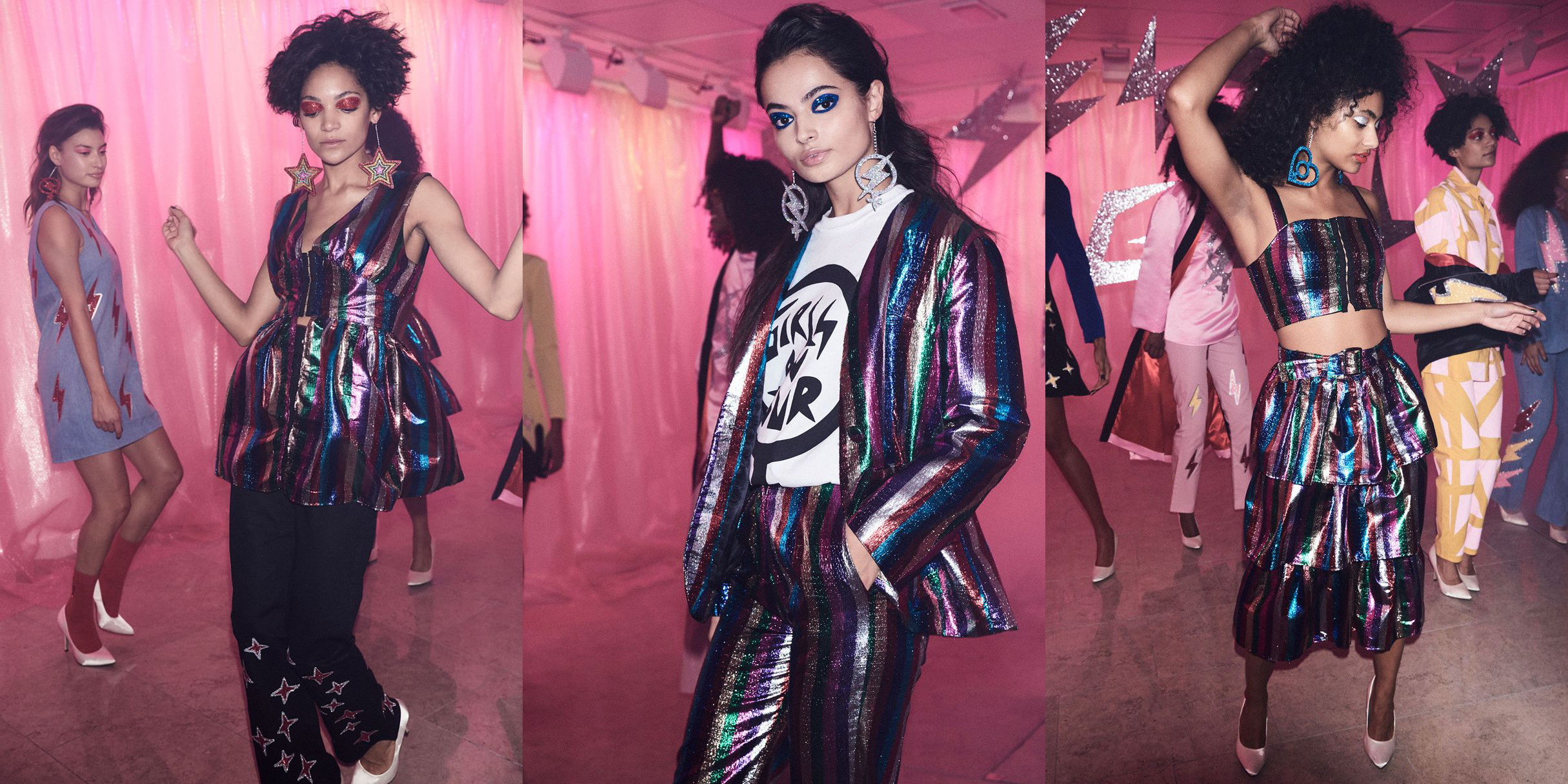 After Nicole's show I was feeling all pumped up. So much positive energy from the show. I even made a couple of new friends there and together, we headed for the next show. Just a stone's throw away (well, if you were a stone-throwing olympian 😉 ) at the Freemason's Hall.
This was Hallie Sara's show. This would be my 1st Runway show here. So yeah I was pretty pumped. One huge difference between LFW and Berlin-FW is, in Berlin when the invite says 6pm it mean the models will be walking at 6pm. Now in London, what that means is the door opens at 6pm. Which basically means you will be queuing outside (unless you had special pass, but do I say). So freeze and shine was how we rolled this evening.
Hallie Sara is a New York based luxury brand designer. Her first debut at London Fashion week was just but last year. Her juxtaposition HauteCouture Prêt-à-Porter collection was well received last year so you know she had to do it again.
This year's collection was in contrary to the rest of the day's show colour muted. With the palette consisting of mainly whites, beige, greys, browns and full black outfits. The look was clean with a touch of androgyny. As is her signature.  The show started with sheer dresses made of see through fabrics, sheer tops matched with mini pleated leather jacket, trench coat dresses, culottes, wide leg trousers to full leather outfits. Every piece so light and delicate, they flowed with the models' movement. They are designed in such a way that it is easy to mix them and still come out with a chic, sexy yet laidback elegant look.
So yeah throw away all those boring skirt and trousers suits, boring office wear and get yourself a Hallie Sara set. 🙂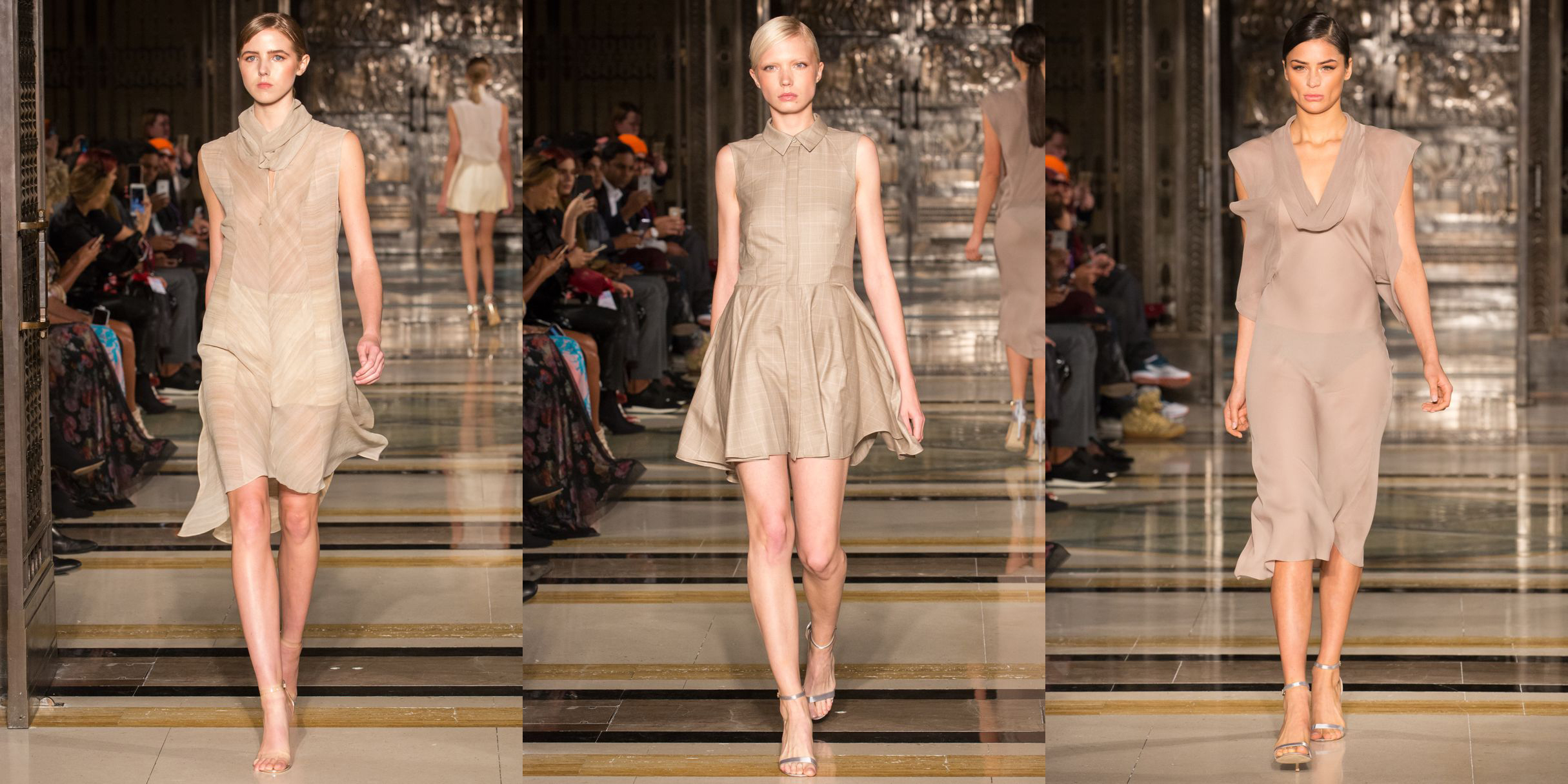 Now the last last show of the day was just fabulous.
Aadvenik's show 'The Circus' was just marvellous
You know when you go to a circus and you sit on the edge of your seat mesmerised, holding your breath, watch gravity defying acts, unchained wild cats doing tricks and you sit their vigorously clapping your hands as you excitedly wait for next performance? Well, Aadvenik's  SS18 show  which was inspired by the Circus was exactly that.
All you could hear in the room were gasps, awes and premature clapping. You just couldn't wait to see what was going to be the next look. An absolutely fun, exciting, flirtatious, jaw-dropping ready-to-wear haute couture collection. In the words of the designers behind the brand, Hila and Kristian Aadnevik, 'The Circus' is without boundaries of our imagination…a world full of wonders, fun and excitement. You know what? I count agree more.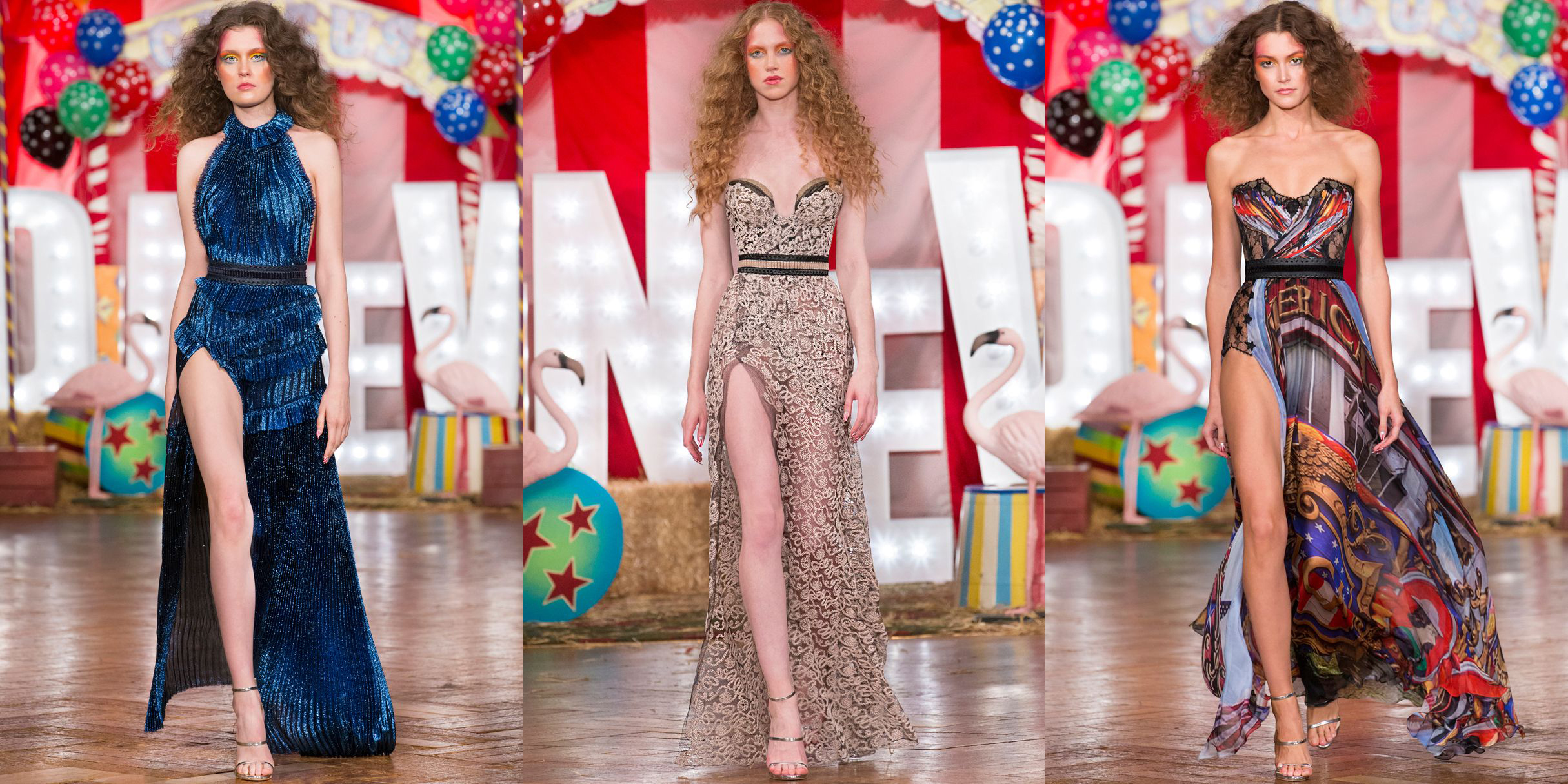 As, I walked out of Advenik show, all I could think of was I need to get my body together and get me one of those!
This concluded my Sundays show. A lot happened in between shows but that would have made this post a novel 😉 So be look on the look out for the Vlog.
Otherwise, Have yourselves an Awesome Monday Guys! XOXO